Emilio Pucci in his studio designing one of his infamous prints
Click play to hear today's message from Cherie!
Pucci for me conjures up images of woman who float into a room and all eyes turn to look at her. When you wear a vintage Pucci you feel that perhaps a little bit of that bygone jet set era might just rub off on you. A little chic bit of the girls who did the circuit and had perpetual tans and wore sandals that were hand made in Morocco, girls with wild, mile high, piled up hair who wore their Pucci's to formal dinners and somehow looked perfectly fine amongst the beaded and sequined "safe" girls. Pucci pieces move. They have a fluidity, an ease, a sense of rightness that only a vintage Pucci piece seems to have. There are numerous designers out there, both then and now, that do prints but it is always the classic, original pieces by Emilio Pucci himself that truly stand the test of time and are the beacon that all others are drawn to and that they attempt to surpass. And they don't.
Emilio Pucci in Acapulco surrounded by girls in his designs
I don't think most people realize just how long Pucci was around for and how long he had been designing for. When you think of Pucci you automatically think the late 60s and early 1970s. His designs seem to go hand in hand with that time period and indeed this was the absolute heyday of his aesthetic. But he actually started designing many years prior - in the late 1930s he designed the uniforms for the ski team he was a member of and in 1947 he designed a ski uniform for a friend that happened to be photoed by a photographer that worked for Harper's Bazaar. One thing led to another and that photographers editor asked Pucci to design some pieces of ski wear for a story that was published in the winter 1948. And voila - a designer was born. Don't you find that sort of funny? We tend to think of the great designers of the past as these mystical creatures who slaved away at couture houses and then just magically began one of their own. But is it really so different then the story of a young designer today? How many careers have been launched today because some eagle eyed editor promotes an unknown designer?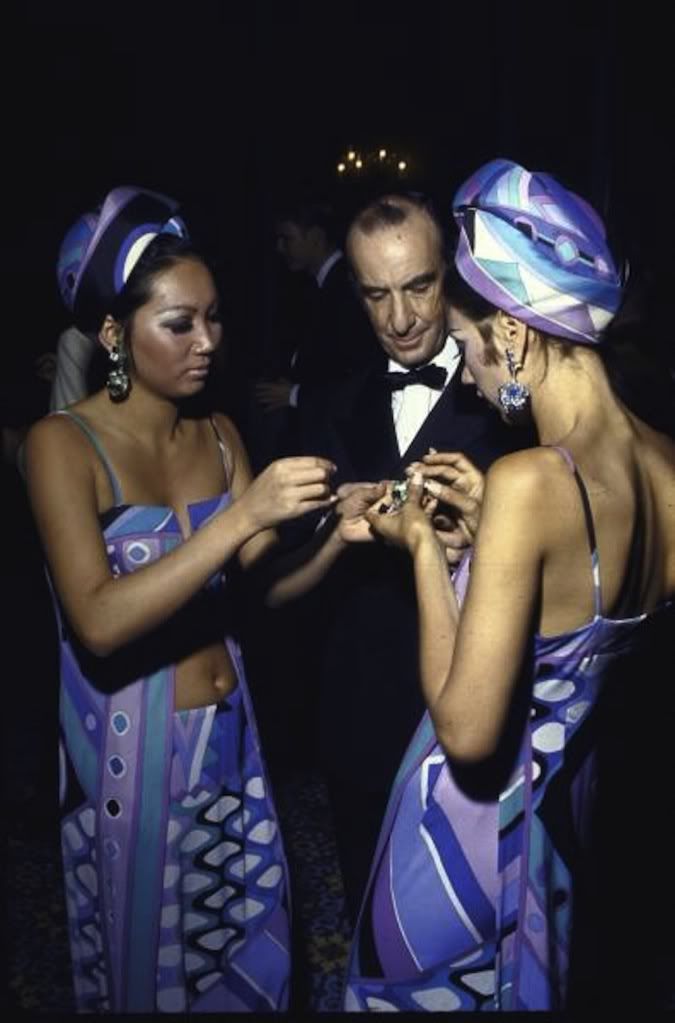 Emilio Pucci with two models wearing his designs
In 1949 he was using stretch fabrics to make swimwear and expanded from that to doing his own bold designs on scarves. It is said that Stanley Marcus of Neiman Marcus encouraged him to to make blouses as well and eventually dresses in what would become his signature fabric - that insanely fabulous, hard to wrinkle, silk jersey that is still used today. By the 1950s he was a full fledged powerhouse of a designer. Starlets wore his designs everywhere including Marilyn Monroe, Sophia Loren, Jackie O and Elizabeth Taylor. In 1959 he started the lingerie line in a joint venture with Form Fit Rogers. Do you think he ever would have imagines that one day girls like Nicole Richie and Rachel Zoe would wear pieces from that lingerie line in public? I think he would have clapped his hands in delight!
Some of the Pucci designed Uniforms for Braniff including the infamous Bubble Helmut that kept the girls hair dry and free from wind
Pucci was a master of marketing and self promotion really - look at hm through modern eyes. He used his connections relentlessly to drive his brand ahead. He made sure his designs got onto the bodies of the most iconic women of the day. He listened to the retailers that told him what would sell and he expanded and drove his brand into new directions - lingerie, swimwear, even household items all carried the infamous Pucci print. One of his most interesting collaboration was with Braniff International Airways. He was contacted by their advertising agency and ended up designing seven complete outfits for the aircrew. They were such a hit and had such an impact on the mainstream public that by 1968, even Barbie had a wardrobe of four versions of the seven.
What I wish I could ask him is the why? Here is a man that we accept the history of without thought. But how does a guy who gets a degree in agriculture, skies, joins the army, raced cars, jump from that to painting and designing? There is the gap that no bio really seems to answer and to me that is the key question don't you agree?He was obviously an astute business man but there is never any mention of his strong affinity to painting and the arts. He seems to jump form a guy whose life is taken up with sport and and being a man's man to suddenly, without warning, become what is in effect a master painter. He designed all those prints. Ad they are works of art. Each one of them. I find this fascinating in that it is never addressed. I wish I could tell you more but I will just have to leave it with you to niggle away at you now as well. Shared curiosity!

The sheer range and breath of his designs always amazes me as well. If you collect Pucci then you know what I mean. You can trundle along thinking you have seen everything there is to see in a Pucci and then you stumble across a print you did not know existed, or some crazy halter top pallazzo pant, caped combination design and say whhhaaat. He designed for a very long time and he was prolific and yet the best of the best pieces are terribly hard to find. Like all the great designers, woman who have his pieces hoard them like the treasures they are. He had an eye for color and contrast like few before or since have had. I think that this strong legacy and infused loyalty to the originals is why the house has had moments of floundering since Pucci's death in 1992. Stepping into Pucci's shoes is a very hard thing to do indeed.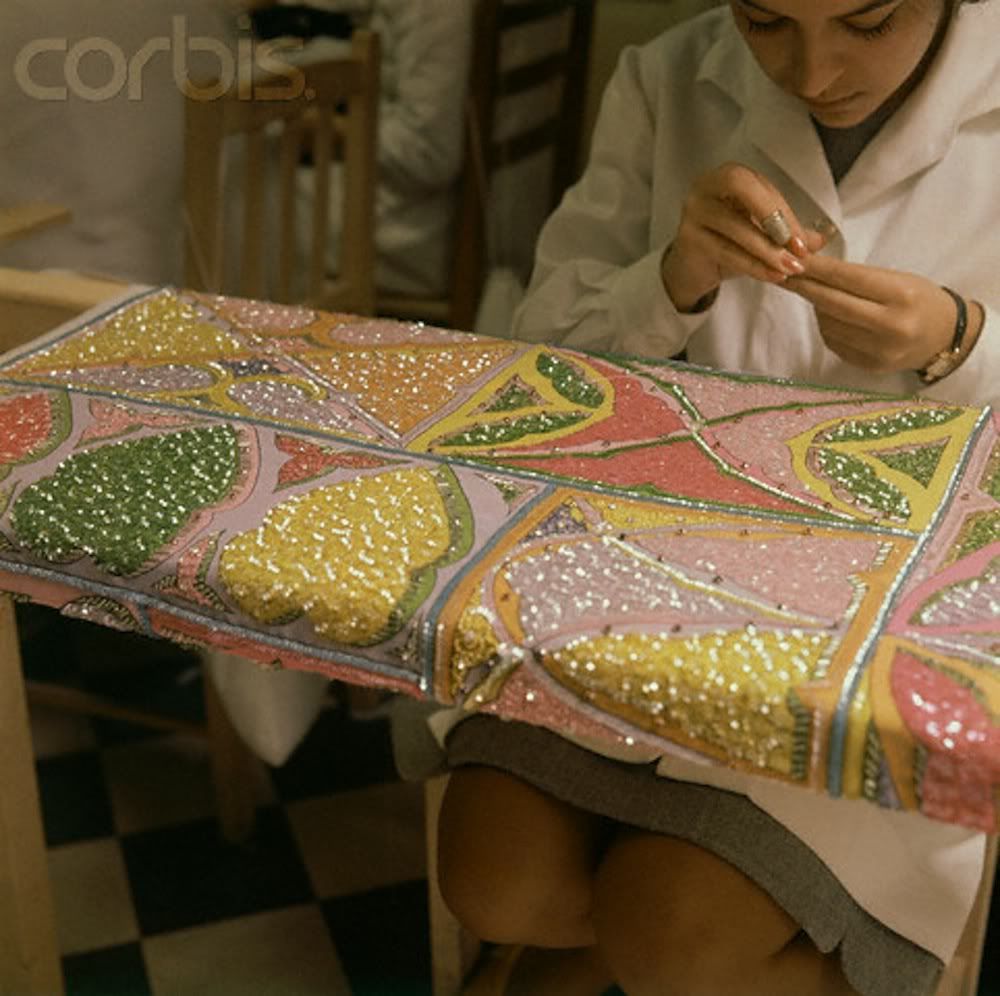 The tedious task of hand applying sequins to fabric. If you wonder at the cost of vintage Pucci pieces sometimes - this is one of the reasons. This picture makes makes me weep at the workmanship put into pieces then
Initially Emilio's daughter Laudomia designed the collections after her father's death, but in 2000 a deal was struck with LVHM (Louis Vuitton - Moet- Hennessy) to acquire 67% of the Pucci company and a series of designers were brought in to head the helm of design - Christian LaCroix 2002-05, Matthew Williamson 2005-09 and finally the young Peter Dundas who is still designing for the house now. For a long time I thought that Pucci would die a slow death. Quite frankly, for a while the designs and fabrics were so bad I was embarrassed for the brand. Everything looked and felt like a cheap knock off. The house swung wildly from trying to do everything to disassociate itself from the archives and the prints that made it famous to going through a few years of trying to re-interpret those prints by doing the most horrid things to them - blowing them up, distorting them....ruining them really. It made me gag. It also made the vintage Pucci market stronger as people who loved Pucci just looked for the originals that much harder. For a while Pucci pieces cost the moon! Peter Dundas seems to "get it" and I have hope for him. He seems to understand the wild child undertone that runs under a Pucci piece. Pucci is worn and was designed by girls who had to live a life of privilege but with that privilege came boundaries and rules and they needed a little rebellion. A Pucci dress was completely acceptable in any circle - their vivid prints seemed to offset their underlying sexiness. The fabrics, when worn over bare skin, are sensual and yet they have enough substance as not be so apparently sexy that your jet set mommy dearest would send you to your room to change. The bare stomach amd flashes of leg seem fine when combined with the beautiful prints. It's sex, but its packaged rich girl sex that no one can fault you for.
After you scroll through the delicious pictures of the originals take a peek at the latest runway show under the helm of Dundas that is at the very bottom of the page. Tell me what you think. Would Emilio Pucci clap his hands in delight or would he lament the loss of his vision?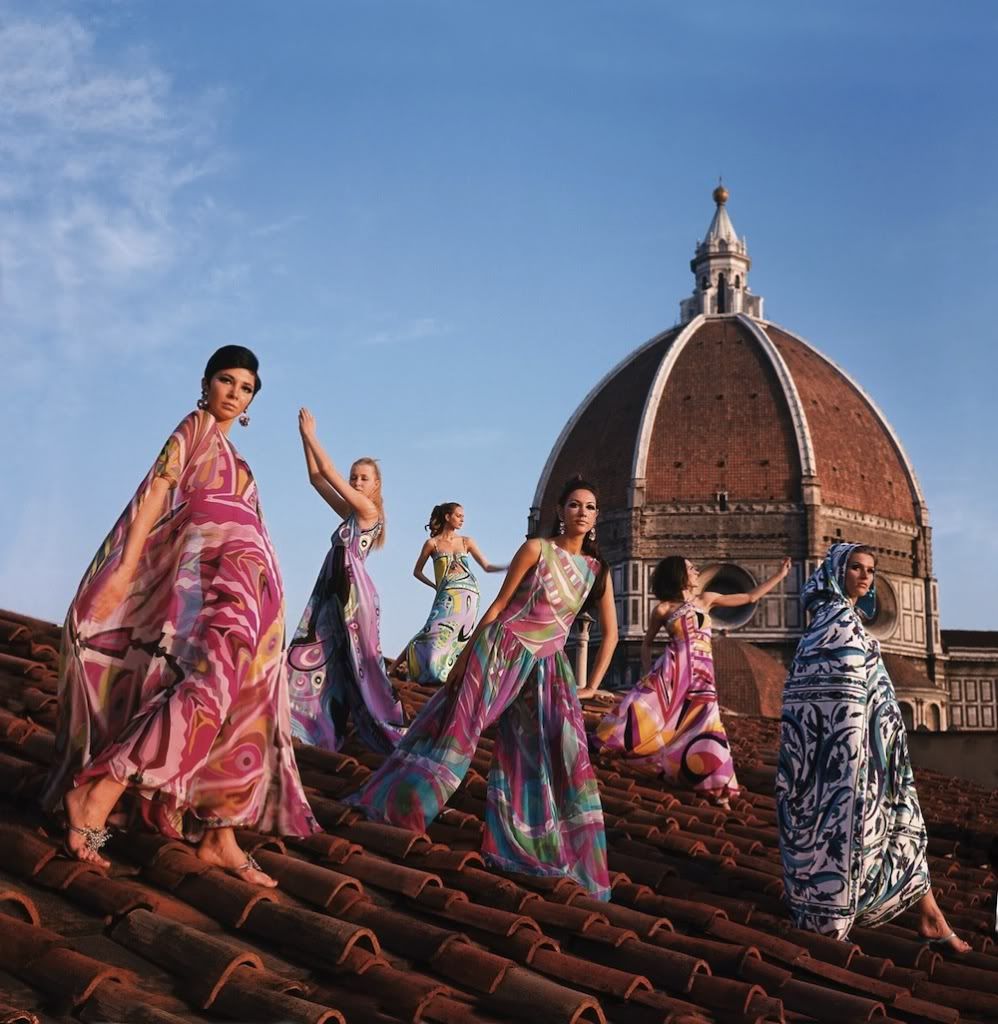 maxis, capes and jumpsuits!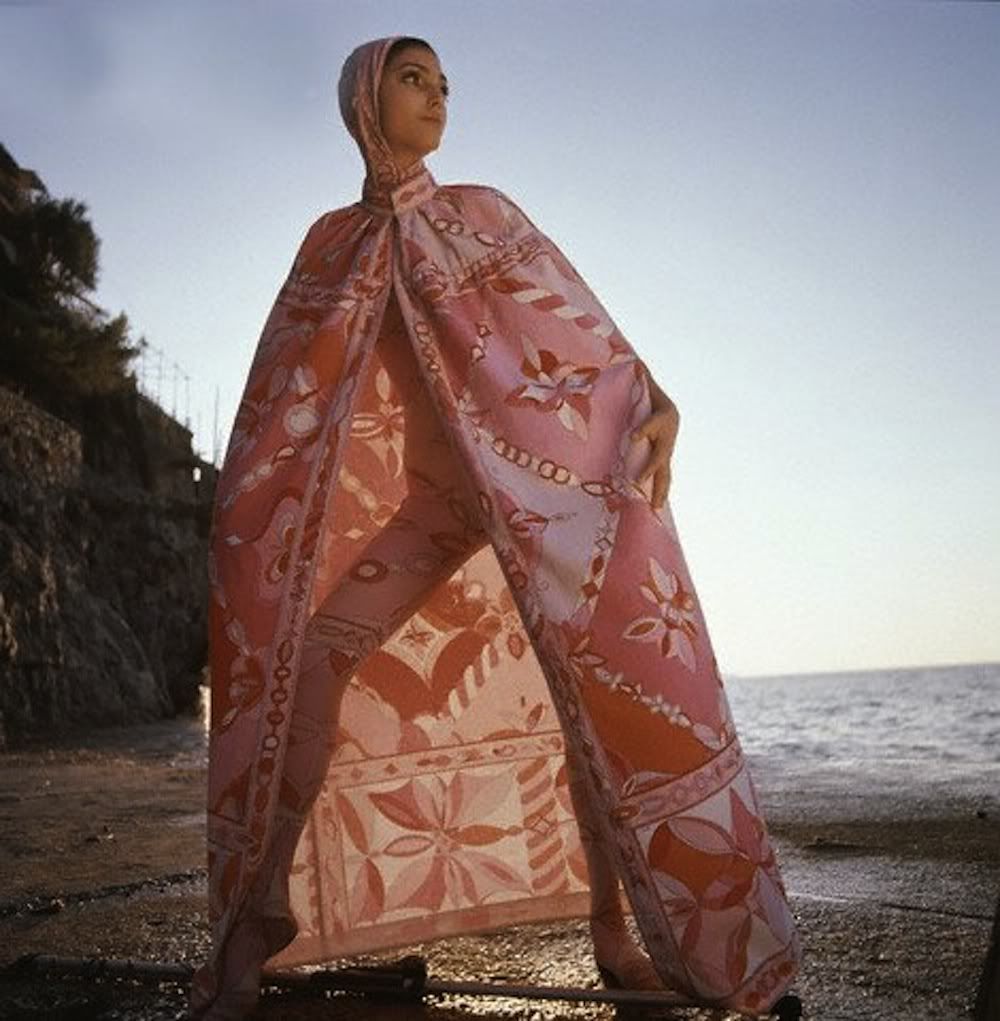 Hooded body suit and cape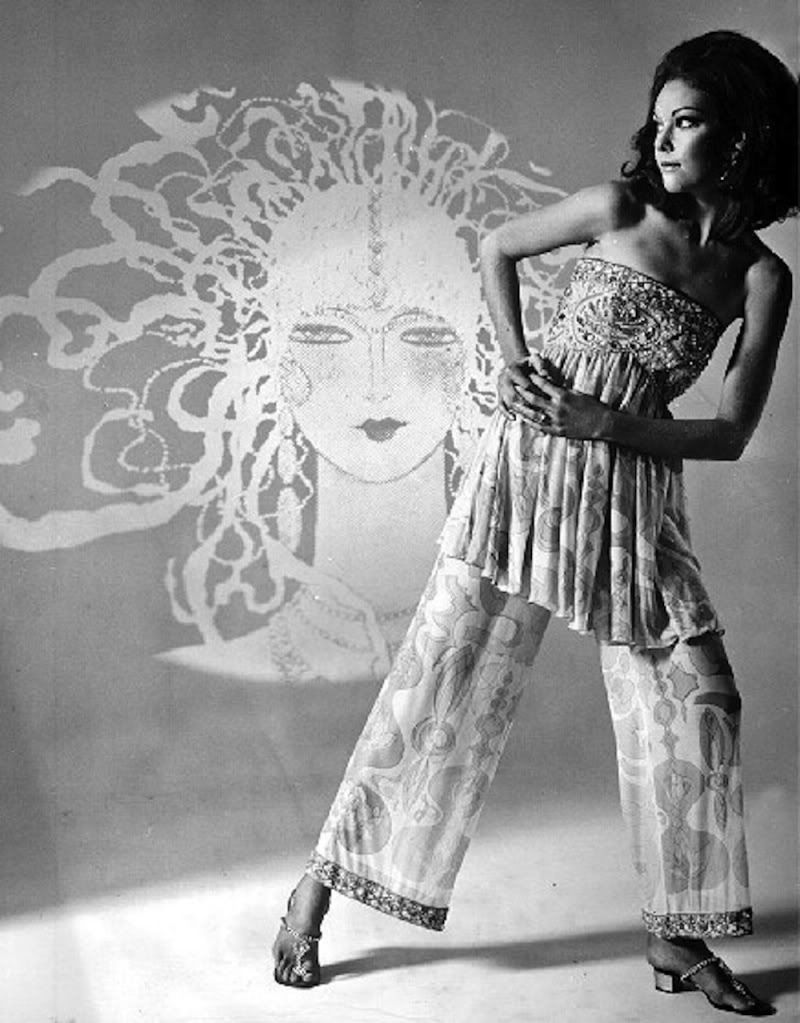 A beaded strapless top and wide pant set
Models in Rome 1970s
The brand also included handbags in the same Pucci prints as the clothing
Crop top and skirt set
Leggings, turbans, printed hose, beading and wild hair!
Body stocking and silk chiffons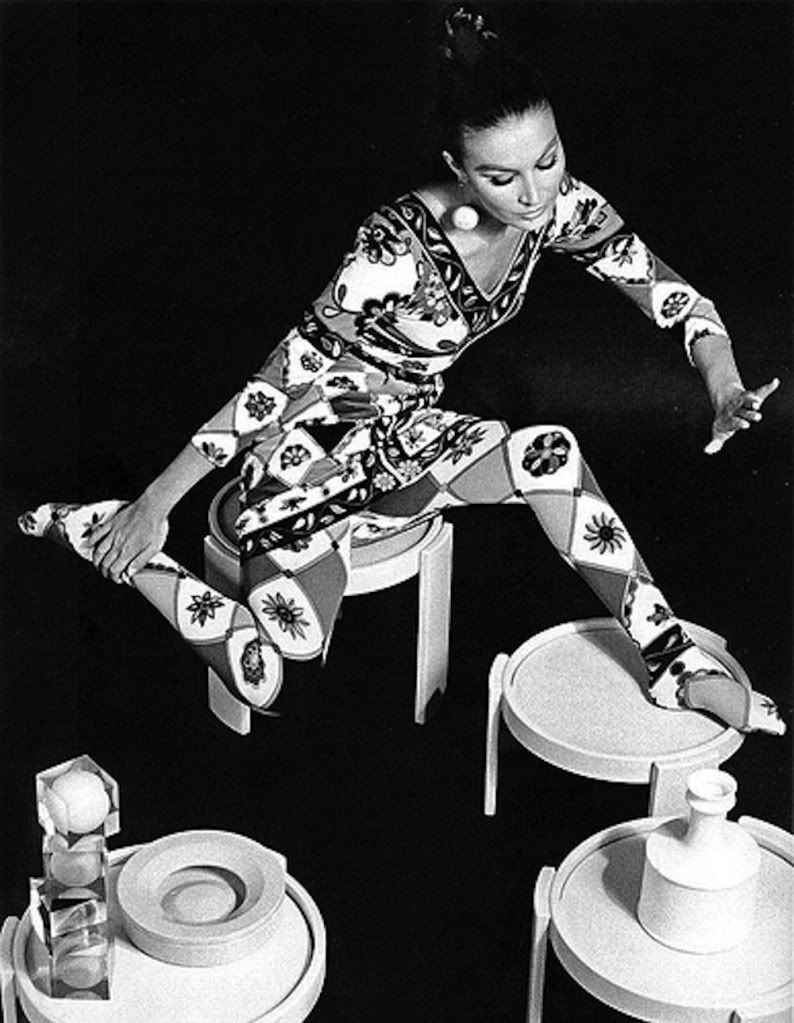 The classic V neck silk jersey dress over printed leggings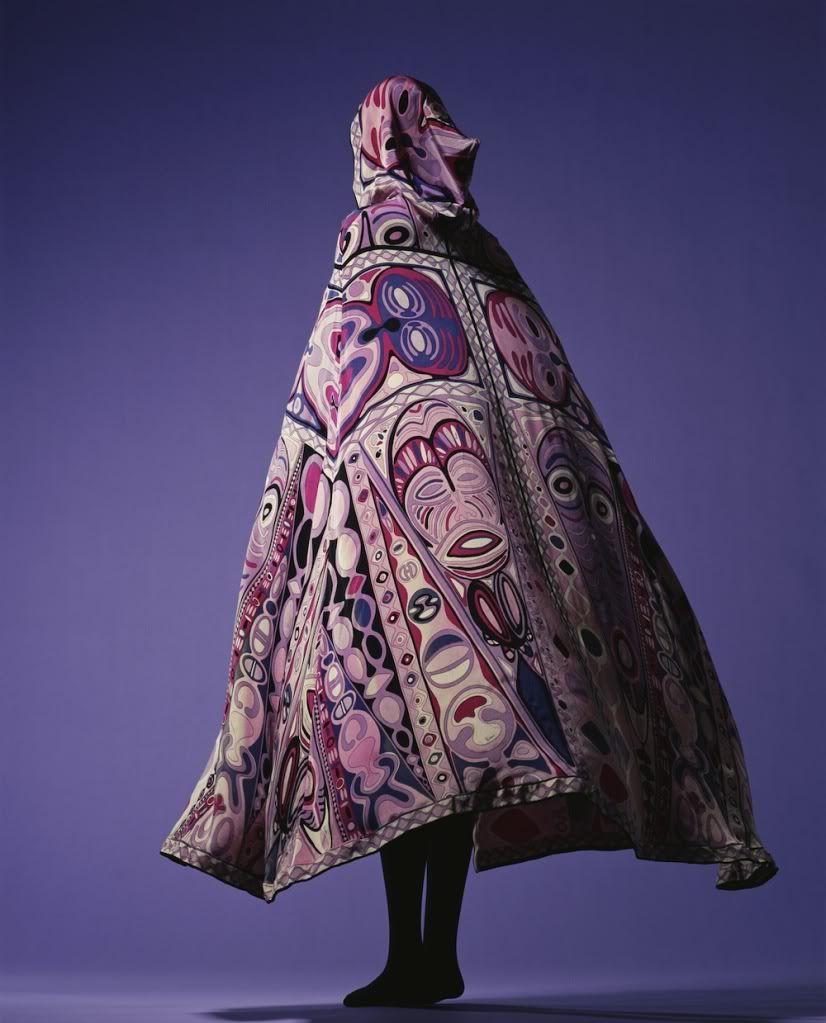 A stunning printed cape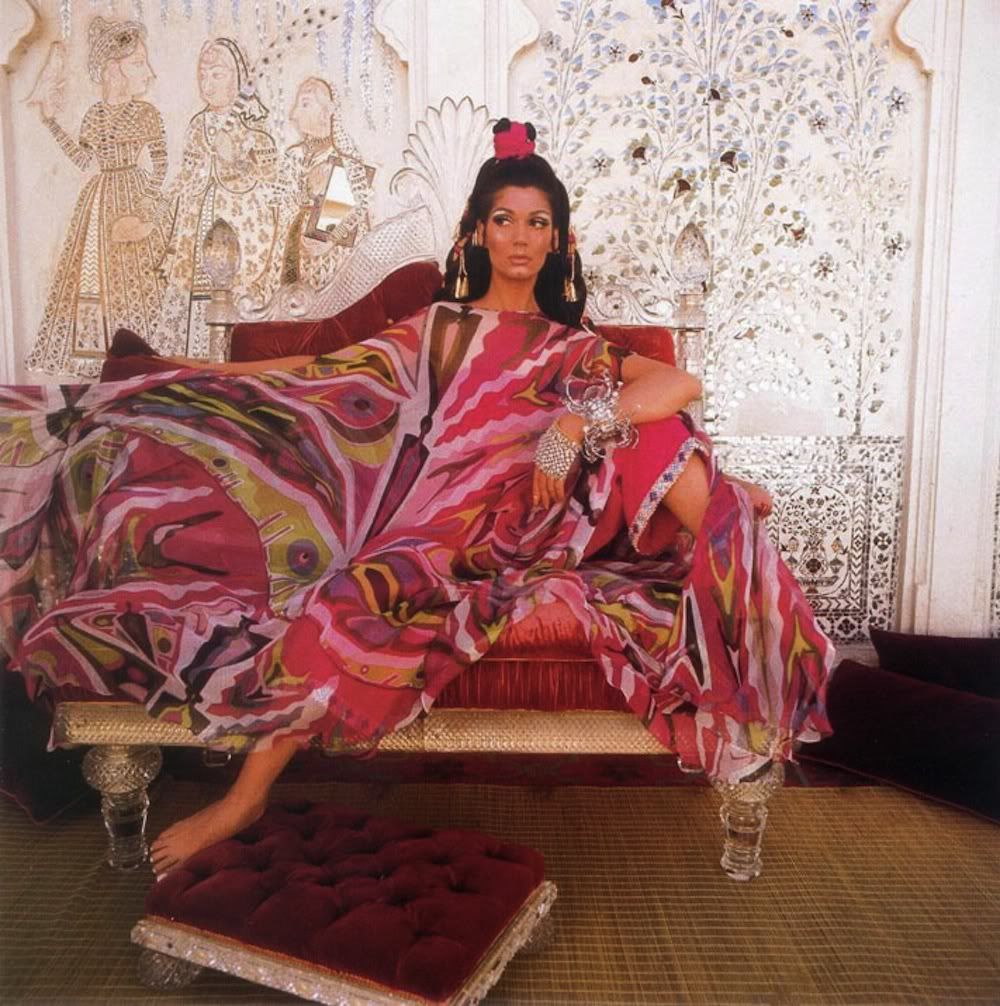 The classic Pucci wild child of the sixties and seventies in all her glory!
Images from TFS, corbis.com, emilio pucci.com and a variety of old images collected over the years - if you feel one should be attributed to you please email and I will add a credit. Historical references from TFS, emilopucci.com and wikopedia and then I threw in my own humble opinions & perspectives